****Holy Stitch Y'all!****
Thread Graffiti now has
2 Handi Quilter long arm machines
​in the expanded studio!
​I provide Long Arm Quilting Services for It's Sew Emma and
​The Fat Quarter Shop, and I'd love to work with you too!
Read the details below for all you need to know to get on my waitlist...

---

Tap the image above to shop for some of my favorite
quilt kits, fabric, patterns, & notions!!

---
Guess What?
I am now an affiliate for AccuQuilt,
that means I have coupon codes to help you get started!
Just tap the Image below before Sept. 30th and you'll save BIG!​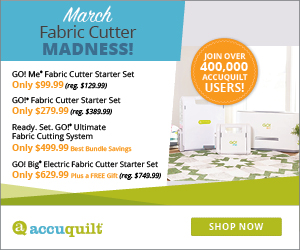 ---
My content contains affiliate links for the products I use and love.
​If you take action (i.e. subscribe or make a purchase) after clicking one of these links,
​I'll earn some extra sewing money, at no additional cost to you, which I promise to use while creating more fun and helpful content like this.
---
Wanna see pictures of some of my long arm quilting, come follow me on
​Instagram, Facebook, or Subscribe to my NEW YouTube Channel!
Digital Edge to Edge Quilting
Digital Computerized Edge to Edge
Price starts at $.025-$.03 per square inch
Extremely dense tiny quilting requests could increase to $.04 per square inch
​​This option offers one thread color.
Below are all the digital quilting panto designs I currently stock
(You will find themed and holiday pantos towards the bottom)
​Current wait time: 4 weeks
I use Handi Quilter long arm machines for all my long arm quilting,
there are tons of digital quilting designs that come on the ProStitcher,
​here are some of my favorites....
If you choose any of these designs for your quilt,
please just let me know on your Google Form below that it came from the HQ pantograph list.
Below are a few pictures of some of the panto designs stitched out for previous clients....
---
Or.....
Maybe you are Looking for Custom Freehand Quilting
****Full Custom Quilting****
Custom free hand & straight line quilting will be available by special request ONLY.
Please text pictures of your quilt so we can talk more about it.
Pricing will start at $.07 - $.09 per square inch and we must discuss before you mail your quilt!
Current wait time for custom will be: 3-6 months
---
Here's what you need to know before you send your quilt:
Let's talk about additional costs and prepping your quilt top...
I now have TWO Handi Quilter long arm machines with Pro-Stitcher Premium computerized system,
my turn-around time right now will be 4 weeks.
How to figure a cost estimation for your e2e quilting? Take width x length = square inches
Example: if your quilt is 60" wide and 60" long that means you multiply 60x60 to get 3,600 sq in
Then multiple 3,600 x the price above to get your estimate for quilting. (3,600x $.02 or $.03 = $)
I have a minimum charge of $55 for small quilts.
Batting:
I stock large rolls of Pellon Brand 80/20 Cotton batting for $.35 per inch, or you may send your own batting if you prefer, but please remember your batting must be at least 2 inches larger on all four sides.
Example: 60x60 quilt size will need 64" inches off the roll (that's 2" extra on both side) = $22.40
*You may request a specific batting also, I have 100% cotton and washable wool available by request -
but you will need to request this in advance.
Backing:
All backing must be at least 5" inches larger than the quilt top, on all 4 sides. If you send backing that is not large enough, I will not be able to load it to the long arm frame without adding additional yardage. This fee will start at $30 to cover the time and additional yardage that will need to be added to the backing. If you choose to mail backing yardage directly to me from a fabric shop, I am happy to piece your basic backing for $30, I will not be able to provide pieced backing as an option at this time.
Borders:
If your quilt top is not square or your borders are too long causing wave, I can not guarantee the outcome, some puckers may result and additional fees may be added for extra time and pressing.
Needle & Thread:
I will charge a needle and thread fee of $12.00 on each invoice
However, as part of my e2e fee I am happy to trim your quilt after quilting for no additional fee.
I use Glide Thread exclusively, and I keep a large variety of colors in stock.
Trimming:
I trim all quilts 1/4 from the quilt edge after quilting as part of your e2e price, if you do not want this service, please note that on your google form below. I no longer offer trimming for quilts with minky backing.
Binding:
*If you are interested in my hand binding please text to discuss, I only schedule hand binding as my calendar will allow*
(Hand Binding $.35 per linear inch)
Clients can send prepared binding strips and I am happy to apply it to the quilt top, then client will finish hand binding
($.16 per linear inch)
Estimate price example:
​Linear inches are figures by adding all four sides together (60+60+60+60 = 240 x $.16 or $.35)
Postage
**
Postage is the responsibility of the client, I recommend sending your quilts via the US Postal Service using the flat rate boxes, these include tracking and $50 insurance included in the cost. I also encourage you to spend the extra $5 for USPS insurance to cover the trip back to you after quilting is complete, this is a small cost to help ensure the process goes as smooth as possible. I have a spot on my Google form below, just let me know there if you want that extra insurance. *Most boxes with standard sized quilts will weight between 5lbs -10lbs, 2/3 day shipping is usually $12-$24 depending how far your location is from Austin Texas.
Preparing your quilt:
Press the quilt top and backing.
Please trim all loose threads from the quilt top, on both sides. Dark threads will show through white fabric if not trimmed prior to quilting.
Backing must be at least 5″ larger than the quilt top on Top, Botton and both sides. This allows me to load your quilt properly to the frame. Addition fees will be billed if I have to add additional yardage to make the backing large enough to load.
Mark the top of the quilt with a pin and post it note, do this for both the quilt top and the backing if your quilt is directional. If this is not done, I will not be responsible for directional mistakes.
For best results, quilt top & backing must be square to prevent puckers. I will not be responsible for puckers if any quilts have long borders causing wave, no refunds will be issued.
You can reach me by phone, email or text if you have any questions. I want to make sure you get exactly what you want, and I want to make sure your quilt gets here safely!! I am happy to help in any way that I can.
***If you have questions, or you are an existing client with a quilt emergency (ha ha)
Feel free to text me. 512-619-8466 (text or call)
Contact me for questions
Call or Text
512-619-8466
Email - gina@thread-graffiti.com
Or follow on
Instagram
@ginatell_threadgraffiti
And DON'T FORGET to check out my new
YouTube Channel
!